cO💌respondences

Tuesday • March 3rd • 2021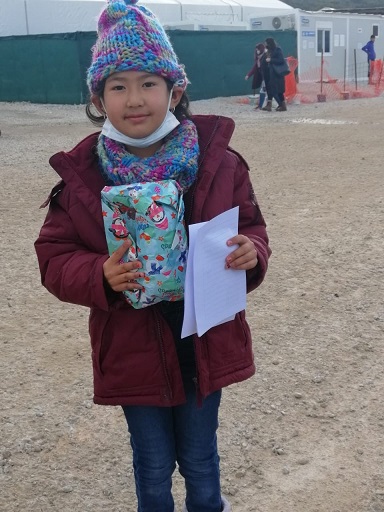 © Wave of Hope for the Future
The cO💌respondences program puts children in exile in contact with their peers across Europe through physical letters and postcards. Children send and receive messages, parcels, drawings, pictures, flowers, stickers - ad libitum - that allow them to express their personality, their generosity, their culture and aspirations, creating fertile interactions for all sides.
want to give a warm hand ?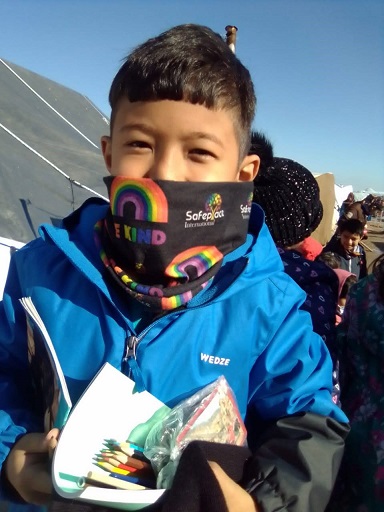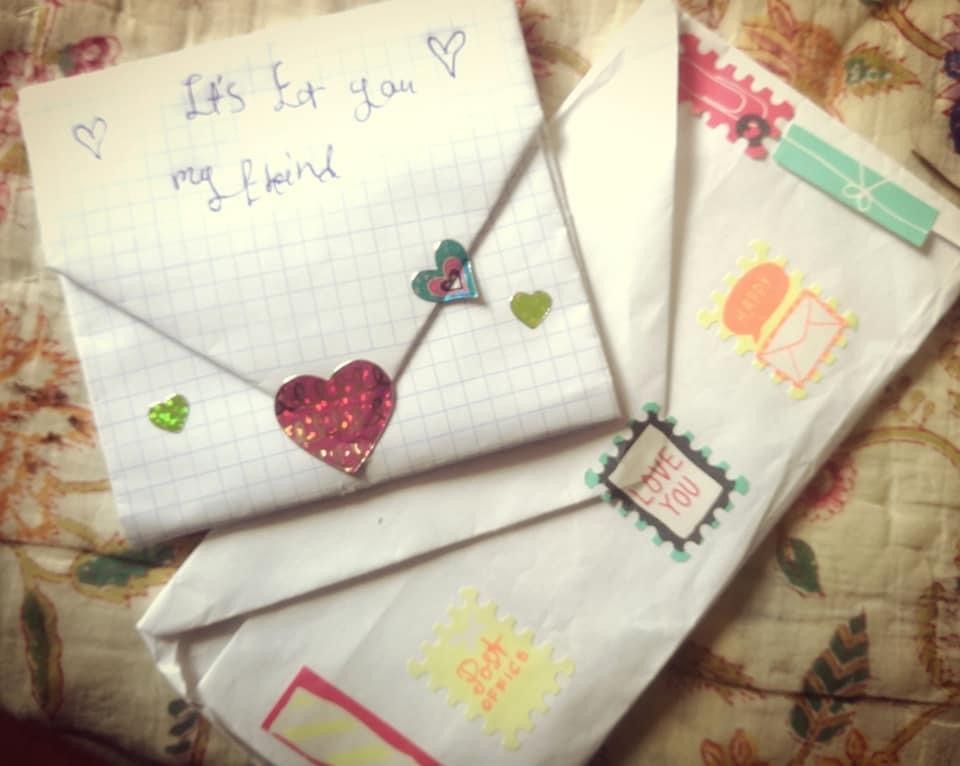 It aims to bring joy, hope and a sense of connection to children & families trapped in closed refugee camps, and gives them a prospect for life outside.

Conversely, it gives to European children and their families a sense of awareness of human issues and an opening on the world of displacement, with stimulating, enriching new friendships.

There are currently around 2000 children in the camp, for indefinite duration (sometimes years) with restricted occupational or educational perspectives. Children cultivate their language and communication skills in cross-cultural exchanges. Classes develop school projects involving history, geography, geopolitics, laws, culture, arts, etc. Some have already made movies, posters, group projects, collages and presentations.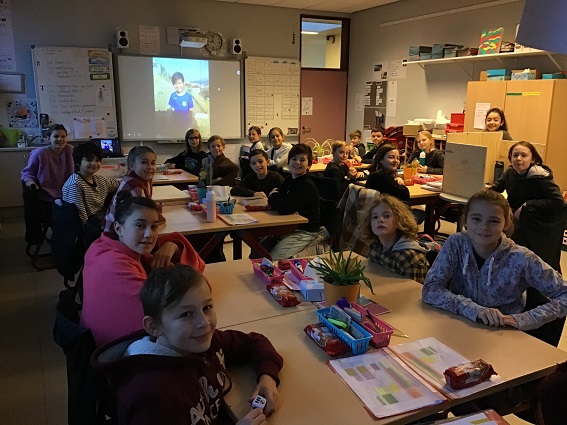 © Freinetschool 't Hinkelpad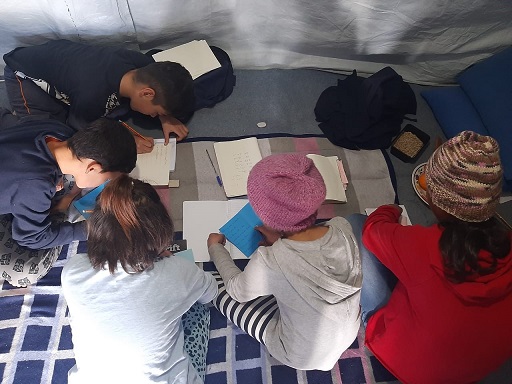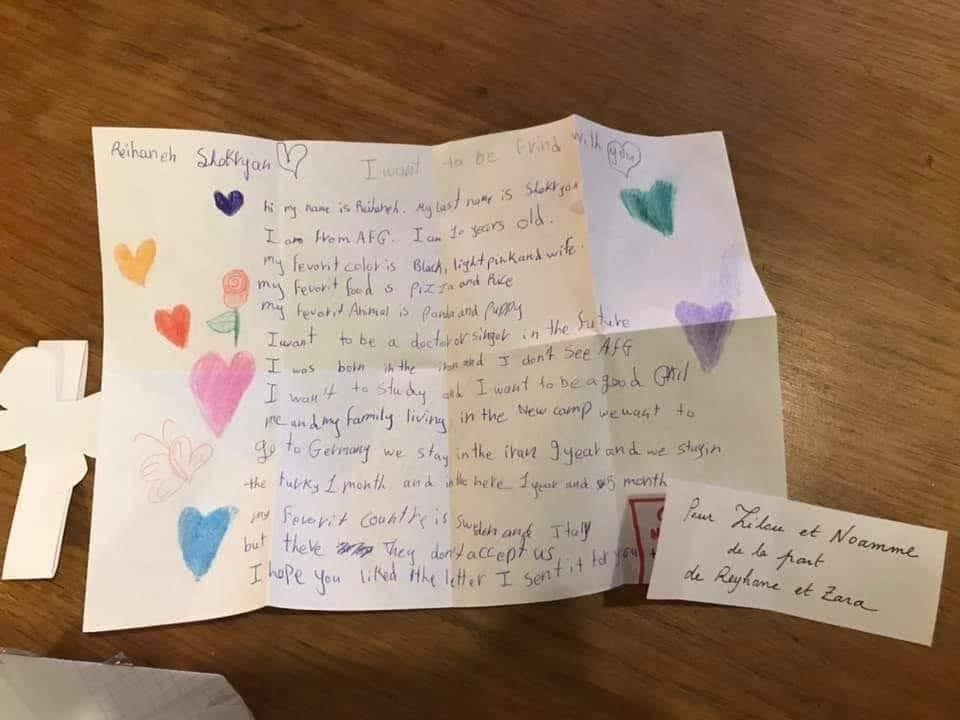 The project bridges the divide between 'us' and 'them', opening windows in the walls of indifference and isolation towards more solidarity and collaboration between humans.

This initiative started last year in September after the dramatic fire at Moria refugee camp in Greece and the consecutive enclosure of refugees into a closed structure in even greater isolation, dependency and segregation. Most humanitarian organisations are barred entry to this new camp, journalists are not allowed without special permission and human-to-human contact and help is impossible.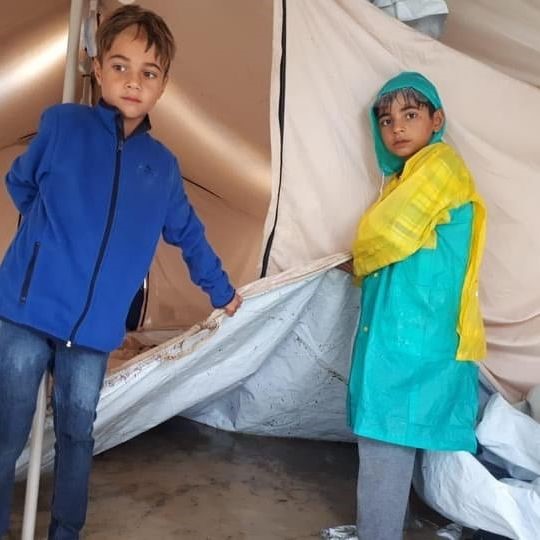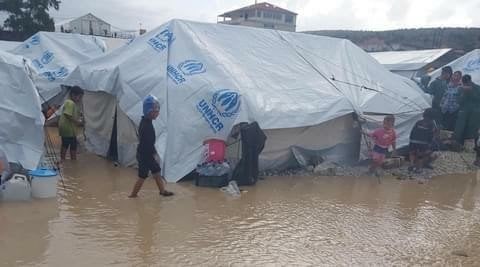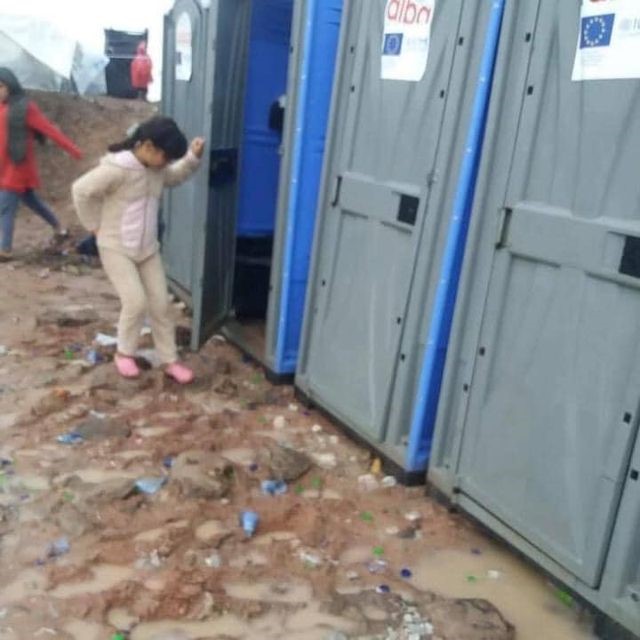 ---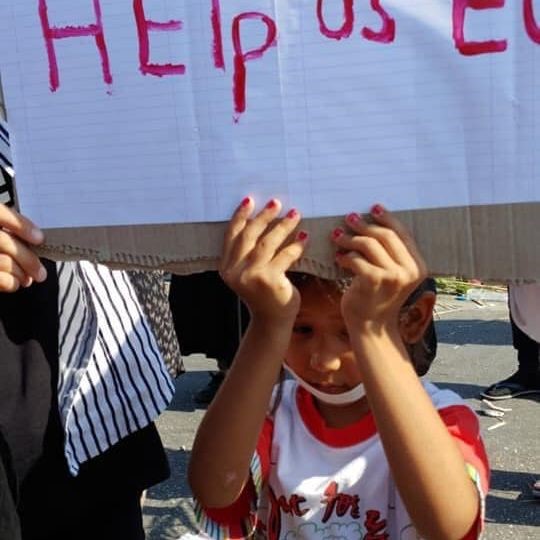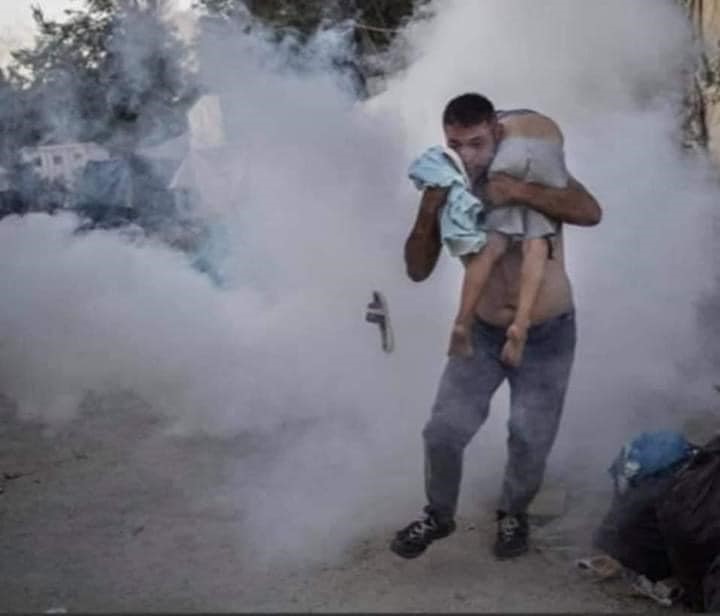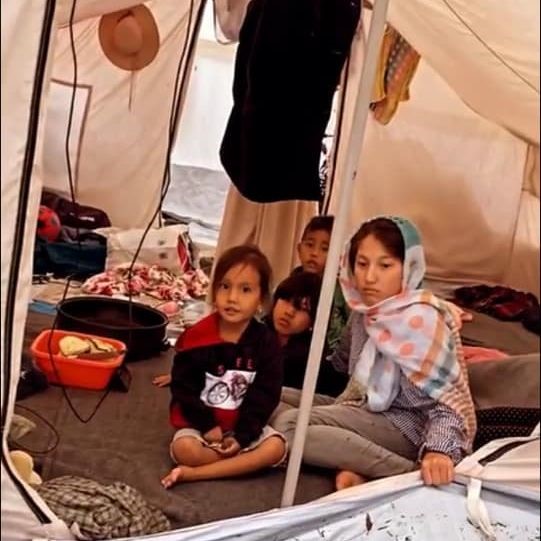 Situation is physically choking, with high walls, barbed wire and fumes. Kids aged 8 attempt suicide. * Last week a 26 yo pregnant woman with two young kids set herself ablaze in despair (and was charged with arson).
In face of these ordeals, letter exchanges keep a fine breathing space and communication channel open.
The program is nicknamed 'Core💌respondences' as a direct heart-to-heart (core) response to human suffering. Being in connection with other humans is part of mental well-being, and is especially crucial in the situation of exile and uprooting.
It also bears the idea that the state of the world is our common responsibility : we are all co-
respondents
. We can co-create an apt response.
To date, 4 refugee-led schools in the camp and organisations are participating:
Wave Of Hope
,
Butterfly
,
Tolou
, and
RAD Music International
, with the help of the
One Happy Family
community centre and other friends.
It took time to set up as refugees have endured extreme conditions this winter, there is still no official educational structure in the camp nor places intended to this aim, and even an official suppression of spontaneous educational initiatives. We also encountered a series of logistical obstacles, like electricity cuts, poor network connections and postal delays.
Yet already now around 180 refugee kids have pen-friends in schools in Germany, Belgium, the UK, France, while some even have support families in Italy, Portugal and numbers keep growing.
Teachers also correspond, as some adults and several adolescents and youth. This project is not limited to children, albeit giving them priority.
Being in connection with other humans is part of mental well-being, and is especially crucial in the situation of exile and uprooting.
Eventually, we wish that each and every chid, youth and family in the camp has a pen-friend : someone they can share their pains and joys with, express their uniqueness and generosity and beauty to, and who can follow-up on them, through a human chain of civil co-respondence.
* news in the New York Times, The Guardian and other international media
cOr💌respondence is part of sChOoL🤸‍♀️withOuT frOntiers⛵'s
UpLift!🪁
initiative to transform the narrative about people on the move.
---
Frequently Asked Questions

My class (or community) are enthusiastic to exchange with children on the move. How shall we proceed?
Quick answer : you can start writing letters and postcards right now! and send to the address below 💌🙂
If some kids are keen writers - may them feel free! Even if they don't have a personal pen-friend yet, they can make an introductory letter.
In any case, we will distribute all letters and get you connected.
Meanwhile, you can send us an email to get in touch with a small presentation about your project including :
● the name and type of your school / community
● who is the contact person / teacher / coordinator
● a list of the children / adults wanting to participate, with their age and gender. Feel free to add pictures of your class and pupils ! Images aremuch appreciated to give a visual face to the exchange.
If children have any preferences regarding the gender and age, nationality of their pen-friends, you can mention it as well.
Upon receiving letters : we recommend that the child replies to his penfriend in the class, before taking the letter home. This prevents delays and accidental loss.
Important : For the quality and joy of the exchanges, children & families need to correspond by their own free will, by pleasure, without coercion or coaxing (of course they may need inspiration and gentle encouragement, but not force). Make sure your class /community is naturally motivated and willing to sustain the exchange in the future.
Shall we write individual letters or a group letter?
Both is possible, it is up to you!
For the start you can send a simple letter with a general introduction of your school / community and its members.

It could be one simple letter like :
"We Lisa 11 year old, Joachim 12 y.o., Paolo 11 y.o...., pupils from xxx school / community in xxxx greet you!🌞 We think of you children in Lesbos, and would like to correspond with you, and exchange about our lives...Here is about us. Here is where we are and how our surroundings look like, here is what we love...".

Or individual presentations from each child - or both. Trust your community's talent for establishing connection!

In individual letters, children can share about themselves more specifically and what they love, for example : their favourite colours, animals, activities... If they have brothers and sisters, best friends.. Which games they enjoy to play, what they like about where they live.. - ad libitum.
Start with something simple, spontaneous.
How do we get in contact with the other children?

As soon as we know the size, age and general of your group, we will find you a matching group in the camp, and send you a name list of the kids and their teacher. As much as possible we will send you pictures of your pen-friends.
We will put you in touch with the teachers and give you a dedicated communication channel.
Then you may continue on a class-to-class correspondence mode. Or we can pair the children one to one (randomly or through age and affinities) so each child can send a personalised word addressed to his penfriend by name.
Maybe some recompositions will be done afterwards, in particular if children move, and special friendships emerge.
However remember that serendipity oftentimes creates the most fertile encounters :-)
We will create a collaborative document (shared Spreadsheet) so that all sides can follow up what is happening, who is corresponding with whom, who is waiting for a reply and how many letters have been exchanged.



💌 IMPORTANT: 💌


Always send your letters by courier. Unfortunately, experience shows that the official post system is unreliable in Greece - all the more so in times of pandemic.
Even with a courier, make a copy of each and every letter before sending! (by scan or picture). We ask the teachers in the camp to do the same. This is important, not only in the unlikely event that letters get lost, but also if they get delayed - it helps the children waiting. It is also a good memo for the sender in the future. And if the authors are willing to share their work, it can serve in a class presentation, a colourful exhibition, and to inspire others!
If you have a lot of letters or postcards, you can group them by a dozen on a table for instance.

Also, don't hesitate to write again, even before you receive a reply. As letters may criss-cross and be delayed for various reasons. If you want, you can set a periodicity.
🙏
Can we use other media, send parcels, or enclose small gifts?
Yes!
Bear in mind that connection is the best gift - the interest and care materialised already in the letter Itself.
However, personalised attentions can complete your spiritual offering, in particular items that evoke your community, your country, your language and culture - if it doesn't delay your sending! Remember you can also send separately, or when the relationship is already more established.
Children can enclose in the enveloppe whatever they feel like sharing - a poem, a picture - a rose petal…
Some classes make posters signed and drawn by all pupils, others even created short movies etc. Trust your heart and creativity!
But remember connection is all what counts - and a very simple, handwritten letter is already gold.

We really would like to send aid also, what can we send?
The above items and colour pens, notebooks, manuals, books, stories, games are always appreciated and in great use... Avoid sending clothes as we have generally enough. Unless we make a specific request ( or unless it is a personalised gift).
You can try and understand your correspondent's needs and what s/he would appreciate to receive, according to his/her condition, personality...Don't hesitate to ask their teachers as well.
There are many other things useful... it could be medicines, used phones, cooking items also or other specific items - These are a complete topic in itself.
It might also come in a second phase, once you know each other and the situation better.
Should we put the letters in single envelopes with the name on it, and then all into one big envelope?
Exactly :)
What can we do to create more connection?
Don't hesitate to send pictures of your class, to make it more concrete for the kids. It could be pictures of the children browsing through their pen-pals' pictures (some used
a projector to beam portraits to the whole class
), making or receiving letters… You can also document the moments when children write their letters, or wrap it up or put it to the post - Any testimony would be great!
These are all precious moments that can be shown to the children on the receiving end. It is already a lot when a piece of yourself made it to the other side of Europe! Reasons to gain confidence and self-esteem. At last, others are seeing you...!
It gives a sense of the children on the other end that something is coming, a good way to dynamise the exchanges and also to inspire others to participate.
How can we help the conditions of people in the camps?
Talk to others... gently raise awareness about the situation. Conferences, newspaper articles, presentations...Spread the word - and find other COr💌respondents!
What is the role of the coordinator?
S/he is primarily the contact person. S/he provides inspiration and space for the exchanges to happen in a nice way in his/her school or community. S/he assists her class or community for writing in English, helping to collect and post the letters. S:he provides perspective, light and context on the correspondents, encouragement, support and presence whenever necessary.
Why do we need a coordinator? Can't they just be put in touch and start writing?
We prefer that you work on the letters with the children, at least at the beginning : first because it is valuable practice for their language skills, having a concrete incentive to write and communicate. And also so that we make sure they are not left alone with uneasy feelings - maybe some can be affected by the condition their peers live in.
Refugee kids are usually super sweet and positive and they will always tend to tone down their ailments and speak about their joys - however some things about their condition may still shine through and can make other kids feel sorry. Feeling sad and sympathising is not a bad thing of course, but we think it is good to have someone near to accompany and explain.
What is sChOoL🤸‍♀️withOuT frOntiers⛵'s part?
We strive to inspire, raise awareness and bring connection. We facilitate the encounter. We serve as an interface between schools in the camp and schools and communities outside, keeping the exchanges alive, running and fluid. We create channels to communicate, tools to follow up the exchanges like connected spreadsheets, and support all teams with advice and guidance. We look for new collaborations and fertile partnerships.
We provide writing material, stationery and cover sending costs for all parties whenever needed.
What is the kids age range?
At the moment the bulk of the correspondents are in the 8-12 age range. Very communicative, mature enough to sustain a correspondence. But this varies a lot. With proper support, 5 year-olds can write wonderful letters; and adolescents and adults can participate as well.
Can teachers also correspond?
With pleasure!
In which language shall we write?
Generally, English serves as a lingua franca, as it is the most widely understood and taught in the camp. But French is also widely spoken, especially among the African /middle Eastern communities. Other lingua franca spoken by some refugee groups is Portuguese. There are classes of German and Greek also in the camp.
But you can also try to write a few words in the refugees' language! It can be an exciting discovery for European children to try and write from right to left for instance, in a completely different script. It is part of the awareness raised. If you learn a foreign language like Persian or Arabic, children in the camp will be delighted to help you progress!
Most refugees aged 10 already speak fluently 3 or 4 languages, and sometimes more : a huge community speaks Persian or Dari, but they can also speak Pashto, Urdu, Tadjik, Hindi, etc..others speak Arabic, Kurdish, Lingala, and many more local tongues.
How often shall we correspond?
It is entirely up to you. You can wait for a rhythm to set up organically, or you can decide on a regular activity, like once a month - you don't absolutely need to receive a reply to send the next letter. Of course it depends on children's enthusiasm.
Also please keep patience. Bear in mind that It takes some time to organise in the camp because conditions are drastic and often chaotic. Basic conditions for normal life are not met, with lack of hot water, toilets, electricity cuts, etc. and regular occurrences of extreme gales, winds, floods. Be prepared for some delays for the answers. There is no proper school, no protective shelter apart from people's overcrowded tents. Classes preferably happen outside, and can only meet up on good days, when wind and dust is not forbidding.
Communication with the inside of the camp also is difficult. Technically, it is fenced with barbed wire, and has way less facilities than a normal prison. Entry is totally prohibited for non residents, even journalists, unless you work there as a guard or one of the very few organisations approved by the authorities. There is poor network, no computers, people struggle to charge their phones.
The last months there has been rains and people are wet, cold and wading in the mud… all people were freezing in subzero temperatures at night, and they don't even have a reliable power supply in the tents, nor proper heating.
A challenging situation. So things take more time. But people rise to the obstacles the best they can and often with a lot of grace. And be sure the children in the camp are looking forward for sending as much as receiving letters!
Do you have any recommendations on how to introduce the kids situation?.. I am not sure how to properly introduce their living conditions without overwhelming my pupils..
Experience shows that the exchanges overwhelmingly create joy! Conversations are overwhelmingly sweet and pleasant and intriguing and entertaining.
However, sure, some parts of the children's difficult situation may shine through, which may make their correspondents feel sad. But things are always better when talked about. Even when confronted with sad news, children don't get overwhelmed as long as they have support.
We think sooner or later kids will be exposed to the world and its dysfunctionnings, as they are already through tv and social media and video games etc..and it is a thousand times better if it happens with the support and explanations of a class or community. Yes, there are hard things happening in the world : violence war, exile, abandon, etc, and yes also : there are things we can do to improve these things, all of us, and there are also a lot of good people out there working on it. We don't need to look away.
If realities shine through for the kids, it is more an opening and a realisation. With someone emotionally present to help make sense of it and see the broader perspective, it makes them more aware and mature, able to cope with the world realities. In short, in our eyes, this is what school (and families) stand for ! 🙂 Learning the world, together.
And again - joy and pleasure largely exceeds any other feelings.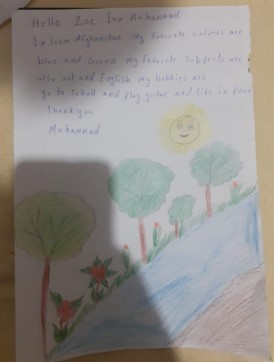 Are there any homepages that are child safe?
The immense majority of european webpages should be child-safe. The legislation imposes to warn for sensitive content.
As in the regular tv news broadcast, some pages might convey difficult situations and events (fire, fights, people sleeping rough, disease, distress) - You can decide whether or not to show them -it also depends on the children's age and maturity. But keep in mind that if they don't see it with your kind support, they might happen to see it without...We are bombarded with images and social medias, and it is hard to screen our children entirely from it.
But youth is also resilient, as long as they get the love they need. If children in this camp manage to cope with the daily physical reality, with courage and resilience, children elsewhere can also process this information mentally.
Tip : you can browse the
posts we made about Moria on our Fb page
to get insider stories and pictures with lots of kids, and watch the uplifting videos we made on
our Page
and
our YouTube channel
.
These are rather children-friendly : they are all part of an effort to transform the narration about refugees, showing also the positive and what we could do together.
How many children can take part?
We have thousands of children on the islands, craving for new friends outside! :-) So if you have more classes who want to join, this is no problem at all.
Are some parents worried about privacy protection?
We don't need any telephone, e-mails, address, IDs or other sensitive information for the children, so absolutely no personal data is involved. Only the first name (or even nickname) and age of the children will be known by their counterparts to communicate - as we do in normal life.
And a public address where to send the letters back is enough : generally the school can offer this.
What about pictures?
Nobody is required to share their picture if they don't want to. It is up to each child, family and community.
We do encourage simple pictures, as it makes the exchange much more concrete, personal and visual. But it is a matter of consent.
As many schools have class pictures on their website already (or pictures of school trips, public ceremonies or talent shows) - you may want to share that.
Some kids make their own selfies and decorated portraits
. But it doesn't need to be close ups. It can be evocative. Important is that each person decides what s/he wants to share.
If it is a forbidding issue with some parents, no problem! there are many other ways to go :-) Maybe the children can even draw themselves?.! or each other! -or another idea you may come up with.
Don't get upset if some don't want to participate or share their photos, it is no problem, we just want to create a little bit of space, a few words is more than precious.
The most important is that children locked up in Moria can find a sense of connection with the rest of the world - and the rest of the world with Moria.
How many schools participate?
At the moment, schools and communities in Germany, Spain, the UK, France, Belgium & Italy.
Eventually, maybe all these schools may enter in contact as well, and create a network…- but this is for our next dream!
I am an individual (or a family), but i reaaally would love to get in contact with someone or a family in the camp...
It is technically possible. We don't prioritize it because it is more work to do individual pairing, and we want to be sure children in the camp are in contact with people we can trust 100%. Also that they are not left on their own emotionally themselves, as life in the camps can be a roller-coaster.
However, if you are committed and motivated, we can put you through. Let us know your interest and what kind of exchange you are looking for. If you know someone personally in contact with the camp, let us know also. IIf you are totally new to the matter, we suggest that you start with documenting yourself. You can read the press, and watch documentaries.
See the links above towards our own videos and articles.
Then You can write an open letter, without a specific recipient, send it to us and we will duly deliver it by sort or choice.
These can be like messages in the bottle, you can't always expect a reply...but be sure it will warm a heart. Sometimes small gestures have the biggest impact!
Where shall we send the messages to?
We will send you an address depending on the class and teachers you are in touch with.
For open letters, please write to :

One Happy Family community centre
C💓rrespondence Project
Sifiso Khumalo and team
Kara Tepe
Mytilini 81110,
Lesbos island
Greece

Keep in mind we may open your letter, in order to distribute it to the appropriate person in the camp. For this reason please don't seal the letters inside the package.
And don't forget to write clearly your address for writing back!

Also feel free to enclose your WhatsApp contact or other social media contact in the letter, which will allow refugee kids to keep contact with you in case they suddenly have to move, as happens very often. Instagram, Tik Tok and Facebook are favourites.
More questions?
If it feels important, don't hesitate to ask us. If it is about details, don't worry!
As we are very small team with a lot on our plate, we appreciate if you try and find the answer by yourself. You will also learn things on the go. Trust your good sense! You can't really go wrong working with your heart. There might be ideas that we haven't thought of, which would prove excellent. We are also learning all the time.
It wouldn't be such a profound experience if it didn't also involve great learning ;-)
We hope you will have a great, great time, bringing the world a little bit closer together, in connection! with openness, joy, simplicity, generousity.
(Lonaïs) for sChOoL🤸‍♀️withOuT frOntiers⛵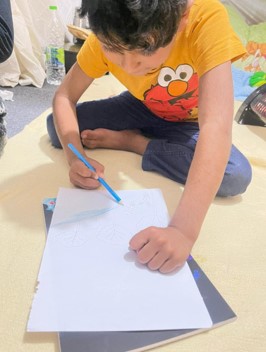 ---
want to be part of this adventure? let's connect!
---
want to help with a conscious donation ?

give it a click :)