Meet our team 💞

We are a diverse, growing team of educators and facilitators, nature explorers, ingeniors, artists, scientists, academics, human relation moderators, entrepreneurs and just humans, children and mother of kids from 5 different countries.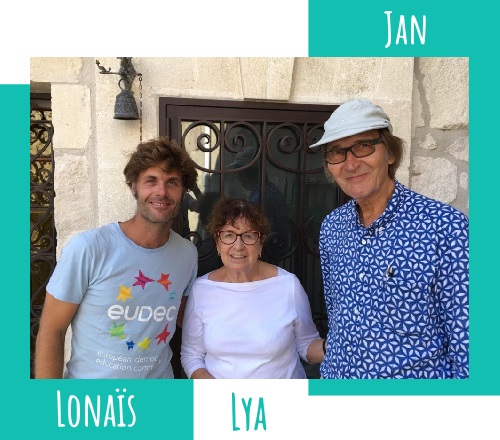 W hat an honour to have Jan on board in this adventure ! Since our very first contacts in 2018, when he gently received us, together with his wife, Lya, and opened his 'scientific mind' and 'brave heart' to the project, he offers invaluable support, insight and experience. A physicist coupled with a fine musician and instrument maker, an indefatigable, Aristotelian 'walking man' (having completed the equivalent of several revolutions on foot around the Earth), he is definitely the incarnation of the eclectic Renaissance gentleman, builder of bridges between disciplines, forever curious and inquisitive. We're so grateful that our visions resonated, as Jan inspired us from the time he launched the Learning Without Frontiers program at UNESCO in the 1990's. He serves right now as President and Senior Researcher for the Learning Development Institute, USA and France, being involved in major research programs such as "Human Learning in the Anthropocene" and "Building the Scientific Mind".
---
I think that you may spend a whole life, 7/7, 24/24, with Lonaïs, and still you wouldn't know him in all his various, profound and sparkling dimensions ! Lonaïs may seem descending from some other planet or galaxy, keeping exploring our world, Humans and Nature, seeking for concealed, forgotten cultural treasures, enlightening our souls with his amazing sensitivity, sense of poetry. He is a qualified Mountain Leader, outdoor watersports Instructor and Nature Guide with experience in countless lands and waters from the Polar Circle to the Equator, tenacious, brave, following mysterious paths thanks to a subtle mixture of strength and agility, with tremendous thirst for sharing knowledge, seeking for wisdom within a collective momentum. His beliefs and amazing energy when to commit to causes (children, education, nature, refugees…) led him to imagine and create Swift ! (sChOoL🤸‍♀️with OuT frOntiers!⛵). One only thing is pretty sure : if you want to share a moment with him, be ready to have a ride on a magical flying carpet. He'll look at you deep in the eyes, a bright generous smile will appear on his face. You'll then feel overwhelmed by two wide open arms as you would have known each other for years. Wherever you come from, whatever language you speak, with Lo you'll always receive the heartwarming hospitality you deserve.
---
F iJi as his name suggests, is the guardian of our treasure 💰 Our precious treasurer far far away on a tropical paradise island 🏝 called Paris. He makes sure we are financially in transparent waters and staying afloat, thanks to the wise management he makes of our monetary fluxes🌊. Well yes, that's what you do when you're skilled with numbers, online tools and other complicated things he hasn't yet had the chance to teach us about, because despite long-lasting ties with our team 💕 he just recently decided to hop aboard ⛵. Happy so, for we can trust the treasure is safe with him and well managed! .
---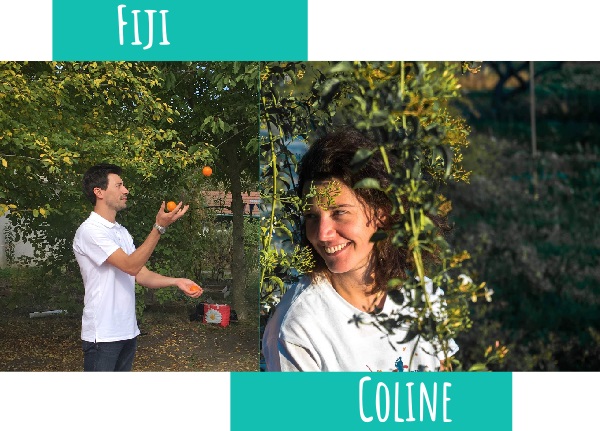 ---
S Smiling, sensitive, open-hearted, rich in self-knowledge and emotional intelligence, Coline is an unexcelled human resources manager who cares about the well-being of each member of her teams. She brings her gifts of mediation, observation and communication to our team to build and harness collective wisdom, and more...She facilitated the smooth running of our sChOlus🌈pOcus! popup schools in Paris and on the island of Aegina, Greece, thanks to her benevolent vigilance. She assists and supports our compliance with numerous administrative and legal matters, enabling the opening of our bank account sChOoL🤸 withOuT frOntiers⛵, our first private sponsorship and our bookkeeping alongside FiJi.
---
---
A blend of Mediterranean charm, Mountain stability and Atlantic strength, wherever she calls home, "it is difficult not to love Savvina", says Lo 😉. How can you resist her brave, righteous and generous character….and such a smile! A joy of living expressed in swimming biking dancing and socialising with other humans and more - An exponent of "more than human" consciousness. 9 year of brilliant studies as a researcher in Linguistics and Educational Sciences in Greece, the Netherlands and France say little about her profound simplicity, ability to fit and thrive in any environment, her care for people and regenerative living. Agility on legs...or hands!🤸‍♀️ SWiFt offers a space for her to express and explore gifts of organizing, coordinating, facilitating and allowing enchanting networks of co-creation to positively loop into each other.
---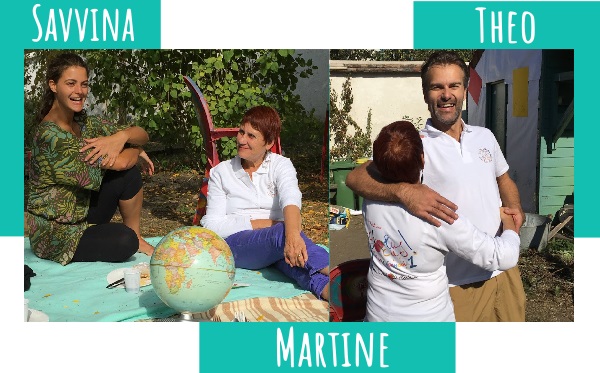 M artine and her soothing presence, her calming voice and her rejuvenating smile... She has no idea how important she is for all of us, as she discreetly follows the team, adding invaluable knowledge, ideas, love, comfort and support to us. She can draw insights from her rich background in pedagogy, built along her career as an english teacher, innovative education counsellor and head of school, now retired. She is the friend who will call you just like that, to say hi, the one who'll listen what you have to say, read the articles you liked, see the videos that inspired you. She was taught AYURVEDA in France and India and as an ayurvedic counsellor she is always ready to share advices, recipes and massages A kind of wisdom as "the team's mum" to enjoy !
---
O ur main engineer in Flow and ecosystem vitalisation, Theo is one of those rare human beings who are as beautiful inside as they are outside. Start-Up developer and Management teacher, incredibly smart, talented, multi-faceted, you can find him, one day, helping new entrepreneurs realise their dreams in the morning and playing beach volley in Paris in the afternoon. He is the greatest friend, advisor, collaborator there is, with a huge heart and incredible patience. Whenever there is an issue, he will actively listen to everyone and find a way to transform the problem into an opportunity. His artistic and web designing talent is behind our website and most of our posters and his warm smile (remember the picture ? Yes, you can go again if you want, I won't blame you) only gives you a hint about how healing his presence can be. We are incredibly lucky to have him in our team and as our friend.
---
R econnecting with etymology and away from tragedy, an embodied catharsis, Electra helps reassociate her sparkling name with Joy of Life 🤸 'Hugs and love to all of you' is her motto and she means what she says. You can count on her to be your best buddy (I speak from experience 💕).Time is no frontier to her whether it's about giving love, care, feedback and countless doses of humor ! She has served SWiFt as a precious secretary, supporting our daily operations online and remains passionate about spreading the word and helping in any possible way. This rainbow Mama of Joyce and Vasileios knows all about multicultural families and is serious about liberating education. With a rich background in teaching, her multitasker aptitudes span commitment to numerous citizen organizations. All of this ultimately serving the realization of her 'Kingdom of Joy'ce'🌈, soon among us ;) Watch out for it !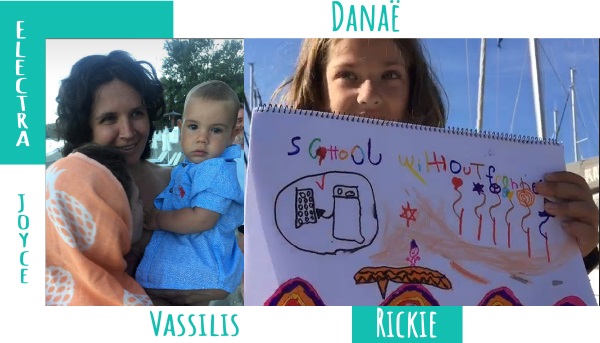 ---
R ickie is a spirited young unicorn, surfing the rainbow waves of life. He (or she?) is our inspirator towards, love, adventure and a grain of creative folly. Viva our mascot Rickie!
Our story : how everything began

In March 2018, Lonaïs & Theo made "Sudbury burgers" and "Montessori pizzas" during a training internship at the Democratic School of Paris. A few dips in the Greek sea and aristotelian wanderings later, a creative friendship emerged based on Lonaïs's desire to push out the walls of the school institution, and Theo's maïeutic & entrepreneurial skills. The idea of an open learning movement to connect the dots between alternative learning initiatives took form, and sChOoL🤸‍♀️with OuT frOntiers!⛵ was born, inspired by the name of a global initiative by the UNESCO for the development of Learning. It soon became a multifaceted, magic vessel to explore all connections. A few miles of serendipity later, this desire for bonding stroke gold at the EUropean DEmocratic Conference by linking up with Savvina, a freshly graduated researcher in education eager for new adventures, and Electra, a mother pregnant of more life. From then the ball rolls on and keeps gathering ever more extraordinary individuals and moments. Coline, Martine, thus FiJi joined the adventure. The Flying Carpet lifted up in September 2019 and landed in the nexus of humanity in Moria Refugee Camp, Lesbos island, while we are working on many more projects to surprise you...:-) Keep tuned!


And what about Y O U ?!
You are life-loving and open-minded , You have skills in communication, organisation, fundraising... - you might be our future team mate!

---
---
just say HELLO? let's connect 🙏🏽
---