Hacking the curriculum @ sChOoL withOut frOntiers :-)

⛵in The Saronic Gulf 🌊

Athens to Egina • Greece • December 22 2018 - January 3 2019

What do schools really need to teach, first & foremost? Well…-what do humans really need to learn?!
During this session of sChOlus pOcUS - reinventing education, we tried to put the curriculum straight.
We used a fishbowl brainstorming format.
---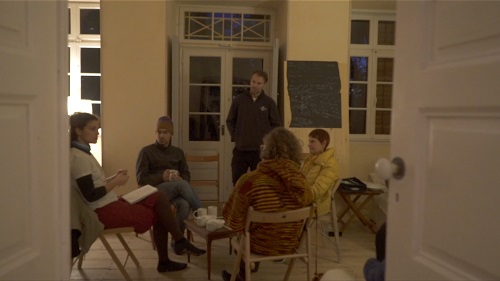 ---
So here is what we found as the vital common denominator of knowledge / vital things to learn. Matters so indispensable, that we all have to tackle this curriculum anyways. We find that good pedagogues and parents the world over always teach that, consciously or not. Depending on our luck and commitment, each of us will get to a certain level of mastery.

We assume that if school serves any needs, it should help us to to get better at it. So that's what we try to do at sChOoL withOut frOntiers!

Please give us your mind, feel free to expand and comment about it :-)
---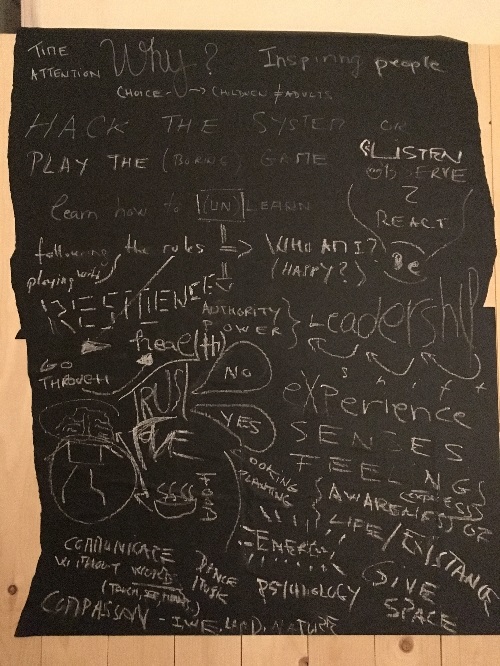 ---
So before or alongside maths & physics, we need to learn :
the art of breathing…
how to learn
how to unlearn (liberate oneself from a bad habit, a flawed way, a falty path, an obsolete custom, a limitating thought, a perverting ideology, a destructive pattern, an addiction)
learn how and where to find the resources we need,
in particular, how to stay warm,
and find shelter and protection,
how to find or produce healthy food,
how to move about efficiently,
how to avoid, defuse violence,
protect and prevent ourself from it,
how to manage emotions
how to decipher ones' intuitions
how to focus, concentrate, prioritize
align body, heart & mind
how to handle overabundance, overflow (such as the stream of information)
how to classify, sort, arrange, articulate (things as well as ideas)

how to go through failures & mourning,
how we regain balance when lost,
how to let go
how to welcome in

courage,
how to know ourself better, acknowledge our strengths and weaknesses, their capacity for evolution, fathom our means and potentials, and put them to good use
how to circumvent one's handicaps
how to recognize what is good for us and what we really need
how to understand the other's needs

how to exert power rightly
how to give
how to receive

how to forgive.

how to listen
how to express oneself,
formulate ideas clearly and communicate with another being;

how to generate empathy
how to rightly ask for help
how to express a request so it is received
how to cooperate with others
how to acknowledge our shortcomings and make amends
how to use critical thinking (especially against fake news, rumours)
how to stand our ground without stepping on others' feet,
how to give constructive feedback

compassion

whom, what, how and when to trust,
Recognize differences, understand them, integrate them,
how to make new connections
…& learn what we need to learn! (the subject of this post:)
to live a balanced, fulfilling life.
...Enjoy your studies, friends!
---
want to be part of the next one? let's connect 🙏🏽