Amorgos 'SEEDS' 25-29.10.19
15 novembre 2019

Cooperation vs competition
14 mars 2023
aDvENtureS🤸‍ with OuT frOnTiers!⛵️
Welcome to a journey through space and time.
A lot happened since the beginning of this adventure.
Here are our stories throughout some major milestones, so far.
Hopefully many more will follow.

Many thanks 🙏 for your heartwarming support ! ❤️
Let's Go !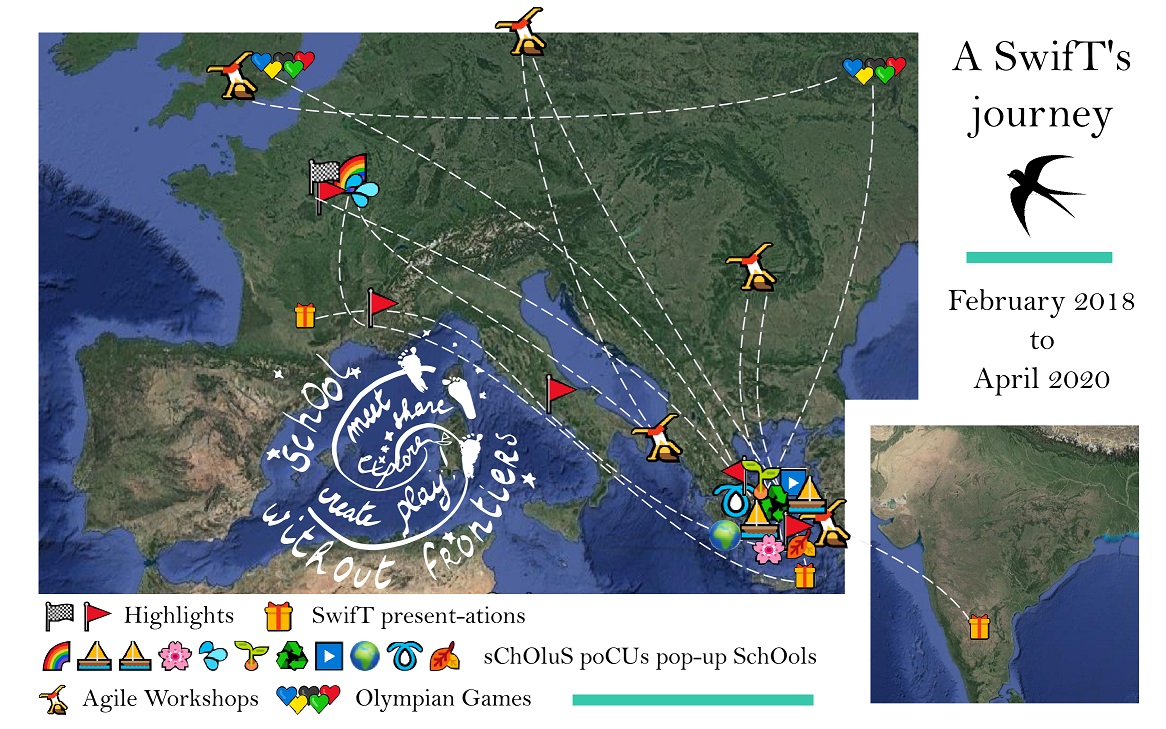 March 21 2020 - Moria refugee camp, Lesbos island, Greece🚩 Gudiparan & kites flights

One extraordinary opportunity for changing our perspective on the Human Beings in the camp, was offered by the Afghan new year on the 21st of march. Traditionnaly it's a festival for Gudiparan (Afghan flying kites). A momentum which was spread worldwide with

Romain Langlois

, a french artist and friend, in support of refugees on Lesbos and elsewhere. From Cambodia to Canada, people all over the world started building DIY homemade kites with messages of love, hope, happiness, writing their dreams for peace and fraternity. In times such as lockdown, expressions of solidarity become part of what is vital. So let's keep up !

Lesbos has been over the past 5 years one of major points of tension in Europe. The Moria Refugee Camp, is cited to be one of the worst in terms of hosting and sanitary conditions. Currently, there are 88 different ethnicities cohabitating on the island of Lesbos, and counting. There are people from as far as Mexico, Angola and Pakistan. These people are seeking refuge and life opportunities in what they see as a haven of human rights and safety, Europe. They are fleeing war-torn countries like Syria and Afghanistan, violent dictatorships like Erythrea, hunger in Yemen, threats to their life for political or private reasons like in Iran (where being non religious or homosexual can lead you to death), etc. Nevertheless it's surprisingly where life conditions are tough that the most extraordinary things happen. One of these "miracles"is the existence of a school in the middle of the camp., the Wave of Hope School for the Future. It welcomes 1000 children, working with 40 teachers, speaking more than 100 different dialects, building everything from scratch with, of course, much more courage and ressourcefullness than materials. Our first step was to observe. In such a multi-ethnic, multi racial, multi confessional place, you can expect the situation to be complex - but soon after arrival we understood of much this is an understatement. During almost a week we spent on the island, setting relations, getting to know better the Stories behind the story, we had the opportunity to discover the power of simplicity and the joy of sharing with people eager to share and open up. It was definitely a tipping point for Lonaïs, which encouraged him to commit much more with the refugees, by changing the narrative of what is happening right now in the largest refugee camp, in Europe.

November 30 2019 - Gaillac, France🎁 SwifT present-action at Leadershift European seminar

LEADERSHIFT" was an EU funded training course gathering 30 youth and social workers and people involved in collective projects coming from France, Spain, Italy, Germany and Portugal. It was coordinated by Via Brachy, a french popular education association, creators of the Heterotopia Tour which was the springboard for Sabine to hop onto to SWiFt. The training was designed as an immersive experience into shared governance. We viscerally explored notions of power, leadership, participation, involvement and responsibility, alongside circassian dances, hilarious expression boxes and revolutionary laughter!

November 23 2019 - Rome, Italy🚩 Pop-up in the Roman Forum

Lonaïs transformed into Luigi just as the Foro Romano became a playground of experimentation of what Open Learning Cities could enable. Sabine choreographed a funky dedication to the Colosseum with Alma's wonderful daughters from Texas. And serendipitous greek island encounters meandered again into the cobblestones of the eternal city...thumbs up to Giuseppe and Orlando for all the support!

October 25-29 2019 - Amorgos island, Greece🍂 scHoLuS POcuS Seeds with Velanidia Foundation

At this end of October the Flying Carpet came back to this magic place that all the more of us feel like Home. It is the island lying across the waters of the Aegean like a sharp arrow signalling the way to the East: Amorgos! Lonaïs shared with us oak wisdom from over 6 years of experience planting trees on the island with the

Velanidia Foundation for Amorgos

.Amongst long rides on the island, seeking for appropriate places to plant the precisous seeds, Lonaïs together with Tina Lymberis want to disseminate this ancient knowledge that many of us in recent generations have become oblivious to.

October 10-15 2019 - Corinth, Greece➰ scHoLuS POcuS Cycle UP with ina Lymberis

How to do something out of nothing - transform rubbish into meaning?! Abracadabra, the Flying Carpet landed -but what a take-off that one was!- in the vibrant Pluck gardens and all the transformative magic of Tina Compostina and Ilias Xylias! In the birthplace of Compostopia, alongside one of the initiators of the Permaculture movement in Greece you bet right some power community loops got activated! From Chile to the Yellow Days it lifts UP our spirits to look back in

there

!

October 2-7 2019 - Plitra & Skala, Lekonias, Greece🌎 scHoLuS POcuS Worldschooling Automnomy with Aurora Southern Lights

This training was an immersive experience in

The Southern Lights

farm which facilitates youth workers from Greece, Italy, Portugal, Denmark and Finland to design and implement land-based solutions that generate measurable ecological regeneration, promote human rights and responsibilities, and grow personal and community well-being. Worldschooling explorers, freelearners & globetrotters had the chance to explore the neighboring Southern Lights initiative, meet the multi-perma-cultural PermaHabitat learners and exchange on their respective experiences. So inspiring! Thank you so much Sheila :)

September 29 2019 - Athens, Greece🤸‍♀️ Play workshop during Yellow Days festival

The Yellow Days is a humanitarian festival to enhance minorities protection and cultural intermixing. In this second edition at the Fine Arts School in Athens Lonaïs and Sabine offered body language and improvisation games to boost cooperation, sharing, connection, joy and creativity 🐱‍🏍 Friendships emerged from New Zealand to Beehive communities passing of course by the Yellow people :)

September 21 2019 - Paros island, Greece▶️ scHoLuS POcuS PLAY

An afternoon of Free Play on the central square of Paroikia! So much fun and inspiration, especially so when the Paros alternative education team and soo many children are at the rendez-vous!

A first stop, a humble beginning, "observe and interact". This is precisely what the

Nea Guinea

collective has been in Sabine's learning journey since 2011. Coming back 8 years later the organization is now the cornerstone of the permaculture movement in Greece but also active worldwide. While exploring the resonances between our inner world and outer surroundings we had the chance to witness the start of the PermaSchool and to exchange with Fotini amongst many dear friends.

September 9 2019 - Monastiraki square, Athens, Greece🚩 Pop-up on modern Agora

What's better than popping up on the ancient AGORA for an informal, joyful, playful gathering proposal ? That is also what education may look like, right ? The History and the Ephemeral, the spontaneous emergence of knowledge exchanges in the middle of the city, linking with past in the present. Welcome in this DIY open learning facility :)

August 23 2019 - Oxfordshire, UK🤸‍♀️ Agile facilitation at the Freedom to Learn Festival

August 4-9 2019 - Vinnytsia, Ukraine💙💛🖤💚❤️ Olympian Games at IDEC conference

An incredible week! Sabine & Lonaïs participated in the

International Democratic Education Conference

in Ukraine. A weekfull of emotions, joy, laughters without frontiers, deep connections! How much we can grow together in such a kind environment goes beyond words and can hardly be captured in images... Next festival in Bulgaria and Nepal! Let's spread the freedom of learning the world over together.

"Come, return to the root of the root of your Self" That is nothing much more to say about what happened during those 9 days, than Rumi's invitation, ... enlightened by our friend's Sierra

VIDEO TESTIMONIAL

within the

EDIT

(Education in Transformation) project,

Nari's

agile facilitations, Andreas & Stella's wonderful welcoming in Stagones through the

Hara Goe

initiative. Simply authentic.

Since our first meeting with Shiri, one of

AntiuniversityNow

festival initiators in 2018, we found inspiration and also interesting connections between our open grassroot initiatives. One year later, Swift was there, proposing Olympian Games in Hyde Park !! Well, as you see, there was definitely one Olympian goddess on the pitch :) Interesting how, systemically speaking, the Olympian Games turned to be Anti-Olympian, mainly due to the weather conditions :) But it was good practicing, Sabine, right ? :)

May 18-19 2019 - Montreuil, France💦 scHoLuS POcuS O A S E S with the kind support of the Fédération des Murs à pêches

Back to this incredible oasis ! Les Murs à pêches, incredible gardens preserved from constructions by courageous associations, preventing preciously this treasure from concrete. Our second time there, to reflect, feel, share, play about / with this idea of oases. We had the pleasure to have Jan on board, with interesting debates about what education is actually about. Many thanks once again to Pascal and the

Fédération des Murs à pêches

who welcomed us in their kingdom of heaven.

April 30 - May 4 2019 - Corfu, Greece🤸‍♀️ Agile facilitation at the Spring Academy

Meeting of Swifts & Swallows in delicious Corfu gardens with heartful poets and troubadours, and world actors of democratic education - a wonderful sister project and a highlight!

April 28 2019 - Berlin, Germany🤸‍♀️ Agile training @ EUDEC Congress

EUDEC

, the European Democratic Education Community, one of Swift's major partners, whose aim is to support democratic schools all over Europe, had it's yearly congress in Berlin. The opportunity was given to meet and brainstorm "in real" about EUDEC's structure and concrete actions in-field.

Lonaïs took part to the facilitation of this exceptional meeting with one of alternative's education most well known advocates,

Peter Gray

. Or, how to place and encourage the quintessence of freedom and play in the core of education.

March 17-25 2019 - Amorgos, Greece🌸 scHoLuS POcuS One with Nature ? with ethnobotanists François Couplan & Keiko Imamura

What a week ! More than 50 people joined on Amorgos island, beside François Couplan and Keiko Imamura, our very special-friendly-fascinating experts but foremost beautiful persons, to dive into Nature Beauty ! 33 workshops popped up, mixing botanical or cultural hikes, the finest cooking recipes with local self-collected plants, yoga on the beach, hypnosis, concerts, healthy animated meals, presentations about plants, architecture... within a greek & multi-cultural atmosphere. For sure, one of SwifT's memorable gatherings.

January 22 2019 - Paris, France🚩 Pitch young entrepreneurs for Social Economy dating

Coline present-ed the sChOoL🤸‍ withOuT frOnTiers!⛵️ project in Paris, seeking for volounteers and financial support. She finally won the first prize at ALTEN's intrapreneurial contest for social projects, giving the team great hopes for the future thanks to this comforting first modest "financial success". Big up to you Coline :)

Both on land and sea, this schOluS pocUS explored deeply what a "human life curriculum" would look like. Once again, magic overwhelmed this two weeks long event thanks to the profound share of humanity between our fellow participants. Special thanks to Christelle, Jules, Cap'tain Yorgos (best cap'tain ever, beautifully celebrated), Christina from

SOAR

, to our gipsy gifted musicians for the special atmosphere, to Cameron, for the amazing

SwifT video trailer

! It was our first "major" event, which also allowed to the core team to expand. Thanks to Sabine's and Lonaïs organisation skills, Coline, Martine, Ilektra & Theo could really gather for the first time. A team was born!

November 16-21 2018 - Bangalore, India🎁 SwifT present-action and games @ IDEC conference

Welcomed by India in 2018, this massive event in the alternative education field gathered about 400 nationals and organisations from 25 different countries. The event was characterized by an important presence of the youth, which gave a sense of irrepressible energy and liveliness. On the side of conferences, music and dance was omnipresent which at times gave a « Bollywood movie » magical touch to the whole event 🙂. Experiments are being made far and wide in the fields of participatory governance (India has an officially recognized, sociocratically running Children Parliament), Community Learning in slums, solidarity schools, education in Nature and rural communities, cooperative schools intertwining with local economies, hybridizing western models (Montessori / Summerhill / Freinet) with Indian long history of philosophy, green entrepreneurship, 21st century challenges based and research-orientated schools, Open Universities, homeschooling and worldschooling networks,etc... and yes - explorational learning and even traveling schools!!

November 2-3 2018 - Saronic gulf, Greece⛵ scHoLuS POcuS Serendipity on cap'tain's Yorgos same named boat

What would a school on a boat look like ? What if the constraints on board would be oppotunities to enhance creativity (Danae and Ricky, Swift's mascot, definitely agree), autonomy, discipline, relationships and open up human beings towards others ? By exploring interactions "in the Flow", an intresting reflection about education and transmission of knowledge on the sea.

October 6-7 2018 - Montreuil, France🌈 First scHoLuS POcuS pop-up school The blooming life in the gardens of "Les murs à pêches"

Our first sChOlUs poCus🌈 pop-up school! In an incredible place, true preserved gardens close to Paris. 2 days open to experience concepts such as open forum, community mastery board, offering and receiving workshops, creating collective momentum. It's somehow the real "kick-off" of our adventure, launching our MEET🙏, SHARE🤝, CREATE🚀, EXPLORE⛵️, PLAY🤸‍♀️ program.

September 20-21 2018 - Eyragues, France🚩 Meeting with Jan and Lya Visser, our mentors and godparents

During the early days of August 2018, Lonaîs had the idea to look after some emblematic fellow from the free education movement, being able to embrace our adventure. Attached to UNESCO's vision of worldwide education, and after a memorable visit to the great institution in Paris that summer, we stumbled upon a former program of the 2000's called "Learning without frontiers". This program was at that time being, led by the man who would become our "godfather" : Jan Visser. So that's how our particular relationship with these two superb persons started (yes, 2, as Jan and his wife, Lya, happen to be quite inseparable), as they invited us to spend a day in southern France with them, discussing about education science (Jan is now the president of the "Learning Development Institute"), culture, sociology, ethnology, ecology... by taking a deep walk in the Nature, of course ! We're so grateful to have you on board, Lya & Jan !

August 1-7 2018 - Korfes, Crete, Greece🎁 SwifT present-action and games @ EUDEC conference

The EUDEC (European Democratic Education Community) joined in Crete. A wonderful occasion for people with open visions about education to exchange and debate. A perfect moment for the emerging sChOoL🤸‍ withOuT frOnTiers!⛵️ project to be presented and receive its first echoes. And so it resonated to Ilektra and Sabine, who joined, fast and furiously the board members, brining youth, energy, enthousiasm and overwhelming vibes ! Many thanks to you, to what you've done so far and to what will be... sorry not done, played ;) !

First agile workshop during the Freilerner Festival, a yearly meeting for unschoolers, homeschoolers or noschoolers from all around the world. Amazing exchanges, especially with smart, curious, creative, polyglot self-driven children.

April 2018 - Amorgos island, Greece🚩 Together, an idea and a friendship awaken

After this first episode, Lonaïs (left) invited Theo (right) on his paradisiac Amorgos, in the cycladic islands. Beside hiking, swimming or house building, Lonaïs shared his utopia : create open sharing of skills and knowledge for anyone, anywhere at any time. Or better say, reclame the ancient greek sense of "SCHOOL", free time, a time dedicated to reflect, interact and play.

February 2018 - Paris, France🏁 First serendipitic meeting at the Dynamic School of Paris

Lonaïs & Theo met during a beautiful training session related to democratic principles in education. Little did they know at that time that later on, early October, they would give birth/d to a SwifT.