At this end of October the Flying Carpet came back to this magic place that all the more of us feel like Home.
It is the island lying across the waters of the Aegean like a sharp arrow signalling the way to the East: Amorgos !
Months after the Roots exploration on Evia Island in July, midsummer joyfulness and experimentation and as the late summer seeds have by now ripened and fallen, the ground was ready for us to come back 'home', in the grove of old oak trees, and harvest endemic amorgian acorn seeds… as big as an egg!
What an honor this welcoming home was, even more so as we were joined by dear new and old friends to the island, Narcis, a modern-day Sapfo, Eric, free green peaceful hippopotamus, Mikael aka. Dolphin Man, on his quest now to initiate the Flying Dolphin Permacultural Training Center! And our beloved sChOlus pOcus fairies, Danae and Dorothy.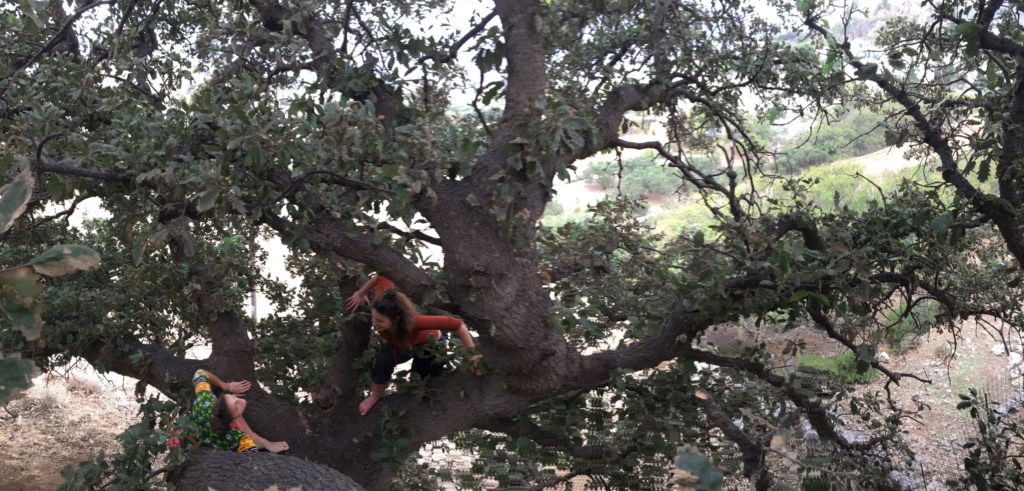 Under and up on the big oak tree at Langada we connected with Alexandra, Gerrit and their two daughters who have recently chosen to make the island their home. Theofanis, true to his name, came over as an epiphany. Together we collected three full bags of Langada acorns, planted a few dozens of them and after a heart-and-eye-and stomach nourishing pic-nic next to Agia Triada (Holy Trinity in greek) we collectively peeled and cooked another few dozens to offer to the villagers of Langada during the evening gathering and dialogue at Moshoudaki café.

Lonaïs shared with us oak wisdom from over 6 years of experience planting trees on the island through the Velanidia Foundation for Amorgos. To our delightful surprise two days later, Popi, our host at the café, transformed some of those superfood acorns into delicious pastry! If you're curious to try it yourselves she has even shared her recipe with us 😉
The multitude of gifts that this tree and its fruits offer to the human and more than human worlds are so great they cannot be contained in a few lines. This is why Lonaïs together with Tina Lymberis created a mini guide to disseminate ancient knowledge that many of us in recent generations have become oblivious to, thus also compromising future generations…And yet, in some parts of the earth awareness of the merits of reseeding forests has grown and flourished. A bright exemplar of such action is that of the Brazilian photographer Sebastião Salgado and his family who set up the Instituto Terra and have now planted more than 2 million trees, transforming a formerly devastated environment. Their story was beautifully captured in the biographical documentary film The Salt of the Earth that our dear friends in Jazzmin Bar (Chora) projected at the end of our second tree-planting day.

During that day we had the great chance to be invited by Eleftheria Psychogiou, another great soul of the island, to plant within a space safe from the number one threat to oaks on this island: the all-eating goats! Within the municipal camping ground of Katapola we created beds for the mighty oak trees which will grow from little acorns. Her brother, Panagiotis showed us some 3 and 5-year old saplings that are persevering in the camping ground, despite donkey munching!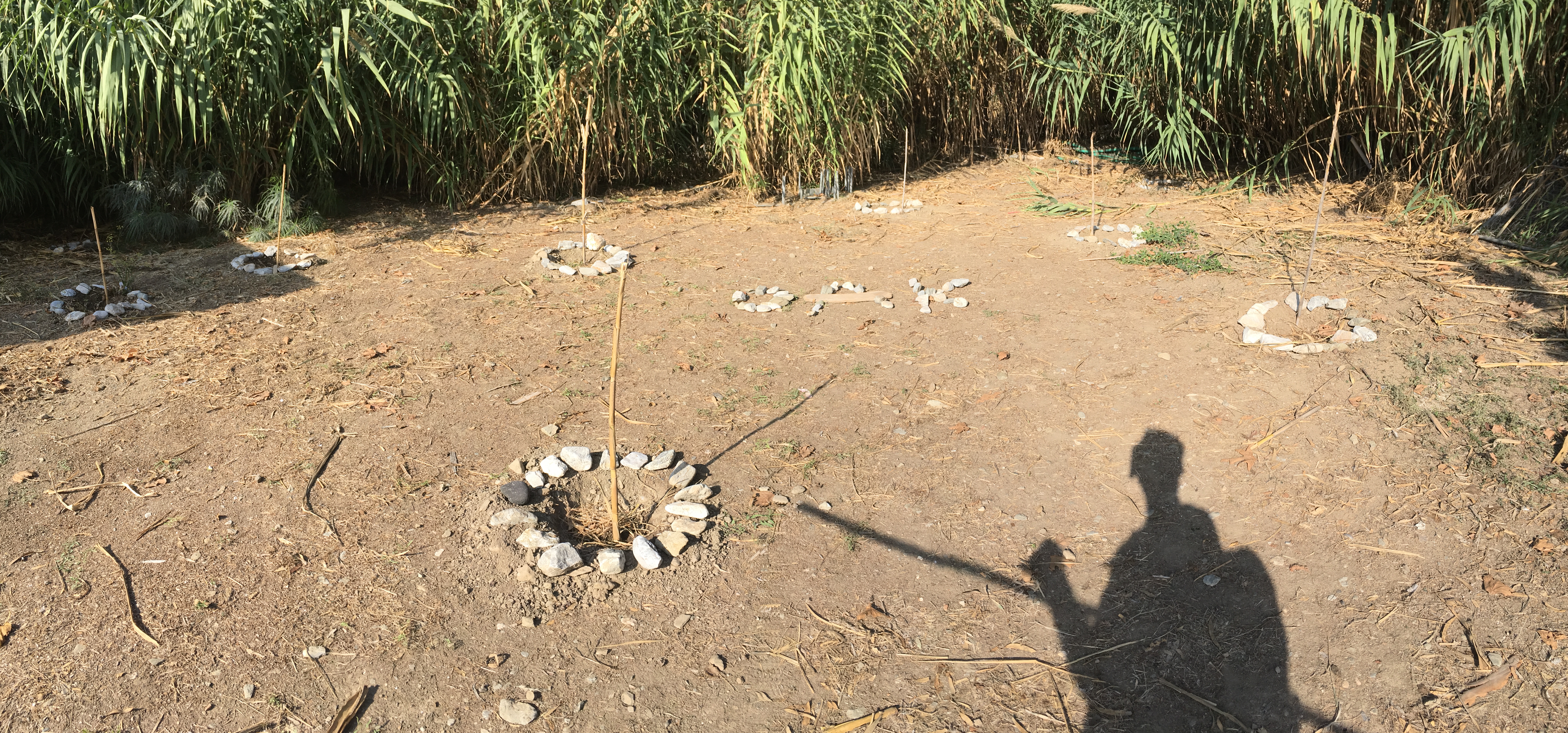 Hope is growing on this part of the island and not just in the soil, as we learned to our great interest from Eleftheria's vision for the regeneration of this campsite. Let me be clear that by 'hope' here I do not mean optimism. As Václav Havel (1986) has noted, "it [hope] is not the conviction that something will turn out well, but the certainty that something makes sense, regardless of how it turns out". As Danae interestingly pointed out in her feedback to us, our oak-planting actions make different sense to the different people on the island. In short, not necessarily everyone cheers to it…
On Sunday, joined by a large team of friends from Italy, Sweden, Germany and Russia among others we first Don Quixoted our way towards the windmills at the heights of Chora before hopping on to the 'heights' of our modern throw-away societies with a visit at the HYTA landfill, kingdom of our out-of-sight out-of-mind habits of thought…A preciously hard lesson to all of us that was! No wonder we afterwards improvised a therapeutic singing session and pursued with our planting mission in the area of Stavros. The invitation this time came from Evaggelia, who was quick at adopting the idea and wished to enrich her garden with oaks.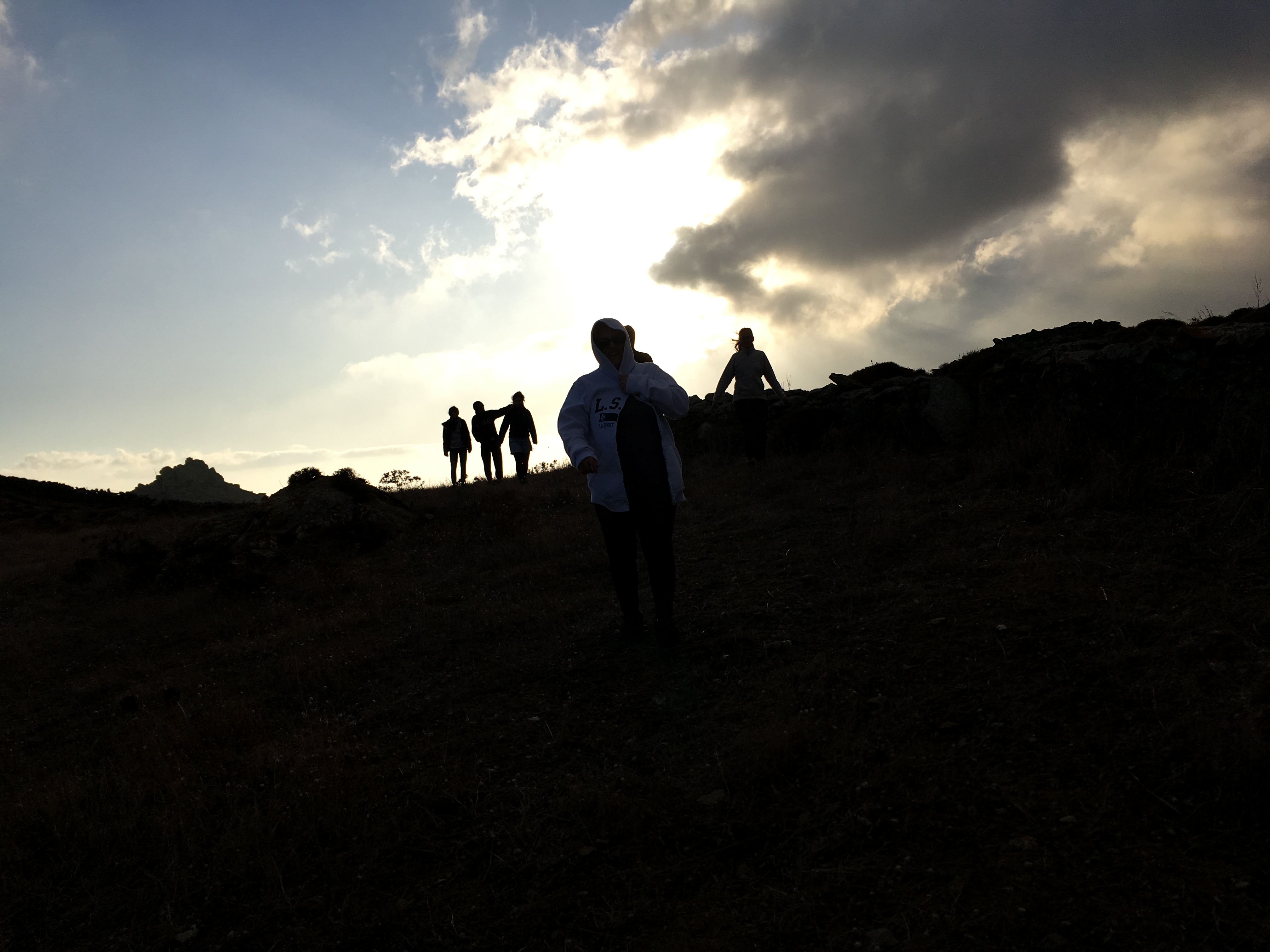 After these attentions to the lungs of the earth, in the evening it was time to turn to mammal lungs by attending the screening of Dolphin Man, in the cinema of the little village of Vroutsi. I felt this deep dive into the world of Jacques Mayol as a stunning closure to the quest for a deeper affinity with the sea, trees, human and our inner-selves.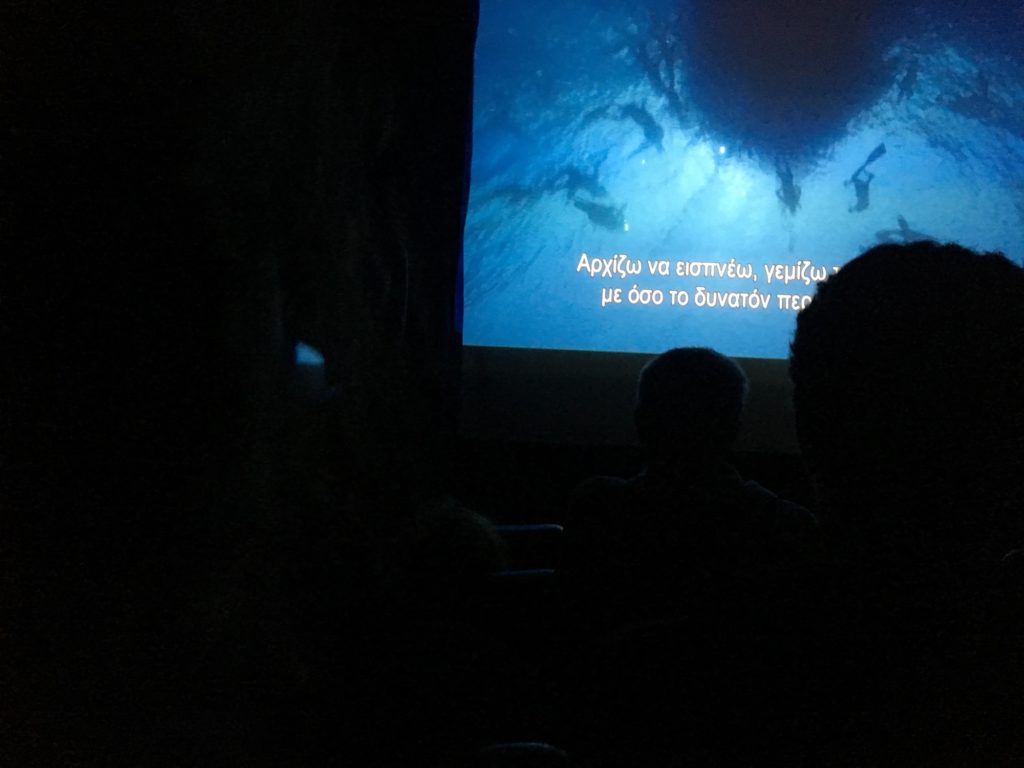 * Here is the cherished recipe from the golden-handed (χρυσοχέρα we say in Greece for a great cook) Popi Oikonomidou :

You clean them (acorns) out of the shell. Put them in water for a couple of hours and peel off the skin. You boil them. Mash them. Add soft butter, brandy and dark chocolate. Put the mixture in the refrigerator to curdle.
You make balls and put them back in the fridge. Spread black chocolate: warm it, spread it on a bench and cool it 3 times. After warming it up again you spread the chocolate on your palms and turn the balls over so that they're sprinkled with chocolate. You throw them in cocoa powder and toss them around so that the cocoa goes everywhere. In the fridge for a while and they're ready 😀